Welcome to HezaChan.com! Thank you for visiting.
Here you will find photos and descriptions of award winning cosplays I have made!
♥ - Check out this cool corset I got from TheVioletVixen.com!
Omg this corset from The Violet Vixen makes me feel so badass! I'm pretty sure my favorite part of it are the fasteners on the front~ It even has a little pocket to keep some goodies in~ They're customer service was excellent, and they even had a personal corset consultant to find me a corset that would fit best. BRB I'm gonna go Zombie hunting!♥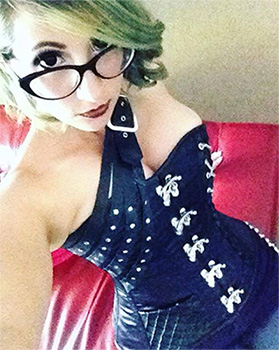 ♥ - BIG SITE UPDATE!
Hey everbody it's good to be back! It's been quite a while since I have been able to update this site properly. My old PC pooped out on me and it took a good amount of time to get everything back up and running again.

But with a new update that means lots of new pictures, right?! ;3

There is a new menu bar up top and I took out the Art section due to neglect. All the stuff up there was old and I felt as if I would have neglected it still, so down it went. I still enjoy drawing, but rarely do I ever draw digitally and my scanner isn't the best :x

Also, I have added new links to the top banner! I'm going to try to post more on YouTube as well as stream video games on Twitch! I hope you will enjoy them~ Don't forget to check out my Facebook, Twitter and Instagram pages as well!

Thank you all for your patience, and thanks for sticking around~♥
*NEW PHOTOS ADDED TO THE FOLLOWING GALLERIES:*
♥ - Prints now for sale at my Storenvy shop ~ ☆HezaChanPlush!
As requested by many of you, I have now started selling prints on my Storenvy shop! Limited quantities available, so please check it out by clicking the image below or the "shop" button on the menu bar!